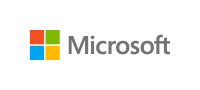 One of the largest technology companies in the world. One of the main providers of IT services used by the US government to surveil immigrant communities. Declared it was divesting from mass surveillance of Palestinians in the occupied West Bank.
Microsoft Corporation is a U.S.-based multinational technology company. One of the largest companies in the world, it is one of a handful of companies that reached a trillion-dollar market cap. The company's 2019 revenues were $125 billion.
In March 2020, following a campaign targeting the company, Microsoft announced it was divesting its shares in Israeli start-up AnyVision, an Israeli company whose technologies power the Israeli military's surveillance of the occupied Palestinian civilian population of the West Bank.
Tracking immigrant communities in the US
Microsoft provides IT infrastructure to the Department of Homeland Security (DHS) through its government cloud infrastructure service, Microsoft Azure Government. Some of the databases and case management tools Immigration and Customs Enforcement (ICE) uses to track, monitor, and deport immigrants are hosted on Microsoft Azure. In a 2018 company blog post, Microsoft boasted that its Azure services enable ICE to "process data on edge devices or utilize deep learning capabilities to accelerate facial recognition and identification, adding that the company is "proud to support this work with our mission-critical cloud." Microsoft walked back that statement in response to public and employee outrage. In addition, the FBI's biometric database, Next Generation Identification (NGI), which shares information with DHS and ICE, is hosted by Microsoft Azure Government.
It is difficult to identify which other specific DHS systems use Microsoft Azure and to track the company's profits from DHS contracts because Microsoft does not supply these services directly to DHS. Instead, these contracts go through third-party service providers that help their customers implement and manage a cloud deployment. However, analysis by Mijente, the National Immigration Project, and the Immigrant Defense Project suggests that Microsoft Azure is the second most commonly used cloud platform for DHS, after Amazon's AWS. As of October 2019, only five cloud services are authorized to serve DHS and have the "high-level" security accreditation reserved for the kind of sensitive data contained in DHS databases and case management software. Two of these services are Microsoft's.
In addition to Microsoft Azure, ICE also uses Github, the Microsoft-owned code repository and coder collaboration site used by over 37 million software developers worldwide. According to a leaked internal email, ICE has been using Github since 2016 and renewed the contract in August 2019. Similar to the case of Microsoft Azure, ICE's contract is not directly with Microsoft, but with a secondary seller, Anacapa MicroProducts Inc, an IT company which ICE frequently contracts for its technology projects.
AnyVision and the Israeli occupation of Palestine
In March 2020, Microsoft announced it would "divest its shareholding in AnyVision," an Israeli company whose technology is powering a mass surveillance apparatus on the occupied Palestinian civilian population in the West Bank. The divestment announcement was prompted by a multi-stakeholder campaign demanding Microsoft to stand up to its own principles on facial recognition technologies, which the company failed to apply when it invested in AnyVision.
Background
In 2019, Microsoft's venture capital subsidiary M12 made a multi-million-dollar investment in AnyVision Interactive Technologies Ltd, an Israeli startup company that specializes in integrating computer vision, facial recognition, and artificial intelligence technologies. The exact investment amount was not disclosed, but the combined investment of Microsoft, DFJ Growth, and OG Technology Partners amounted to $31 million. Other AnyVision's investors include engineering and technology conglomerate Robert Bosch GmbH, chip manufacturer Qualcomm, and venture capital firms Eldridge Industries and LightSpeed Venture Partners.
AnyVision's main security product, Better Tomorrow, uses facial biometrics to identify specific people within large crowds. This technology has been integrated into Israel's illegal military checkpoints in the occupied West Bank. AnyVision reportedly has another, more secretive project, using a network of thousands of cameras deployed "deep inside the West Bank" that place the Palestinian civilian population under constant surveillance. The project includes vehicle tracking using license plate reader cameras and has led to the arrest of hundreds of Palestinians in 2018.
AnyVision's technology is used by government agencies and private actors in at least 44 other countries. Among others, the company sells its technology to state actors in Russia and was expanding its operations in Hong Kong in the summer of 2019, as facial recognition technologies were documented being used to repress protests there. The U.S. Navy also bought AnyVision's technology in 2019, and the company's CEO said the company employs lobbyists in the U.S. Congress to "explain why artificial intelligence is a good thing."
Other Controversies
In October 2019, the U.S. Department of Defense (DoD) awarded to Microsoft its Joint Enterprise Defense Infrastructure (JEDI) cloud contract. The contract, worth up to $10 billion over a period of 10 years, includes cloud services for basic storage but also artificial intelligence processing, and mission-critical support. A DoD official described the JEDI program as "truly about increasing the lethality of our department." In 2018, a group of Microsoft employees called on the company to not bid on the JEDI project, asking that their work would not be used for waging war, ending lives, and enhancing lethality. Google had dropped out of bidding on the contract over similar concerns.
This profile was last updated on
30 March 2020