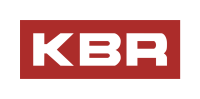 A US engineering and construction company. Does maintenance and repairs of the US-Mexico border fence in Arizona.
KBR, Inc. is an engineering, procurement, and construction company, headquartered in Houston, TX. Formerly a subsidiary of Halliburton named Kellogg Brown & Root, the company has a long history of building large scale projects for the U.S. military, including warships and bases, such as the naval base in Guantanamo, Cuba. and. KBR also had contracts worth several hundred million dollars for U.S. government construction projects in Iraq and Afghanistan. As of 2017, the company has about 34,000 employees and has an annual revenue of $4.17 billion.
Since 2011, U.S. Customs and Border Protection (CBP) has contracted KBR to repair and maintain portions of the southwest U.S.-Mexico border in Arizona, including fences, gates, roads, bridges, and lighting and electrical systems. The initial contract, in 2011, was for 4 years and worth $28.9 million. It was extended in 2016 and again in 2017, amounting to a total of $64 million.
This profile was last updated on
2 October 2018