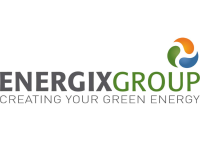 company headquarters
Israel
An Israeli renewable energy company. Owns a solar farm in an illegal settlement industrial zone in the occupied West Bank. Developed a wind farm project in the occupied Golan Heights.
Energix Renewable Energy Ltd is an Israeli renewable energy company which specializes in photovoltaic (solar energy) and wind power systems. Energix deals in the development, construction, management, and operation of such projects, and sells the electric power produced by them. The company's solar energy (photovoltaic) projects are in Israel, the occupied Palestinian West Bank, and the U.S., and its wind energy projects are in Israel, the occupied Syrian Golan Heights, and Poland.
The annual revenue of Energix in 2018 was 171 million Israeli Shekels ($46 million). Energix is a directly-controlled subsidiary of Alony-Hetz Properties and Investment, and it receives management services from its parent company.
Energix is the majority owner (50.1 percent) of Meitarim, a commercial solar farm located in an illegal settlement industrial zone in the South Hebron hills of the occupied Palestinian West Bank. The project was completed in 2015 and is a joint project with the illegal settlement Hebron Regional Council through the privately-owned Company for the Development of Mount Hebron, which owns the rest of the shares in the solar field.
The company has also developed a wind farm project in the occupied Syrian Golan Heights, through a designated subsidiary, Clean Wind Energy Ltd ("ARAN"), of which Energix owns all the control and management shares. Energix has used questionable methods to obtain access to the land from its Syrian-Druze owners, raising concerns about the degree of free, prior, and informed consent granted by the indigenous community, according to a January 2019 report by Al Marsad - the Arab Human Rights Centre in the Golan Heights. The company required the farmers to register their lands with Israel and offered the Syrian farmers a lot less in compensation than it has offered Israeli landowners.
As infrastructure and energy-extraction projects on occupied land, both the Meitarim and ARAN projects mainly benefit the Israeli economy, since they are connected to the Israeli national power grid through the state-owned Israeli Electric Corporation, in violation of international humanitarian law. In addition, the projects create long term Israeli infrastructure on the occupied land and exploit the natural resources of the indigenous population without regard to indigenous communities' right to self-determination.
The company is included in the 2020 U.N. database of companies doing business in illegal settlements in the Occupied Palestinian Territory.
Energix has activities in the United States, in partnership with Caden Energy, previously New Energy Ventures, a U.S. solar energy developer. In 2018, the two companies formed CadenEnergix, a joint venture headquartered in Virginia. The company has two approved solar energy projects in Virginia and other projects in various stages of initiation and development in Arizona, North Carolina, South Carolina, and West Virginia.
Unless specified otherwise, the information in this page is valid as of
12 March 2020