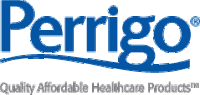 A US pharmaceutical company. Part of an oligopoly of companies who benefit from selling to the Palestinian captive market.
A global healthcare supplier. The company develops, manufactures, and distributes over-the-counter (OTC) and prescription pharmaceuticals, nutritional products, and active pharmaceutical ingredients (API). It is the world's largest manufacturer of OTC pharmaceutical products for the store brand market.
Perrigo Israel was founded under the name Agis and in 2004, was purchased by Perrigo US and became its fully-owned subsidiary. Perrigo Israel imports, manufactures, and distributes RX products, OTC medications, diagnostic and medical devices, and has 900 employees. Perrigo is the second largest pharmaceutical company on the Israeli market by sales volume.
As a dominant part of the Israeli pharmaceutical industry, Perrigo enjoys the advantages generated by the Israeli occupation of Palestinian land that allow the company to exploit the Palestinian market. "Quality and security reasons," in conjunction with economic and political justifications creates a captive Palestinian market for Israeli and multinational companies.
The Paris Protocol, a supplement to the Oslo Accords, regulates financial relations between Israel and the [hypoethical] future Palestinian state, and places both entities under the same tax schedule. As a result, the Palestinians continue to depend on Israeli policies, customs laws, and services for the import and export of goods. This dependency has inflicted strongly negative economic effects on the Palestinian pharmaceutical industry. Various hindrances generate extra costs that harm the development of the local industry, including the burden of the annual licensing of imported raw materials, the costs of back-to-back deliveries to and from the West Bank and the Gaza Strip, the costs of shipping drugs in bulk through Jordan, the exclusion of large Arab markets as well as Israel, and the inability of the Gazan industry to develop and expand due to the prohibition on export.
Perrigo, like other Israeli and multinational companies, enjoys the aforementioned situation in several ways. The company enjoys easy access to the Palestinian market, free of customs and checkpoints (ie a change of trucks at cargo checkpoints). Perrigo's vendors do not have to amend any of their products in order to sell them in the OPT. Thus, the company can sell drugs that are not labeled in Arabic. Perrigo meets little to no competition from the cheaper generic drug industry as a result of the Israeli Ministry of Health restrictions on drug registration in Israel and their enforcement on the Palestinian market.
For further information, check our report on the Pharmaceutical Industry: Captive economy.